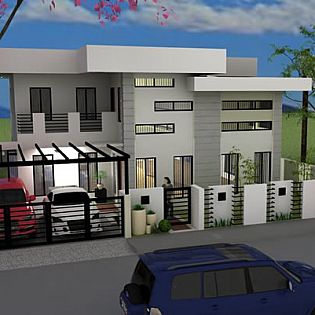 Toronto 5: A Single Dwelling
A modern and stylish home for today's business orientated family who likes going places!
Ground floor master bedroom with ensuite, integrated closet, and a private pocket garden
Large modern kitchen
A maid's room that is accessible to the kitchen and service area
Open ground floor architect planning
An indoor garden under the stairs with loose stones and a pathway that connects the master bedroom to the rest of the house
A ground floor bathroom
Solid wood designer main door and balcony door
Square tube steel framed glass slide and fold doors at dining, the hall and master bedrooms
Square tube steel framed glass windows for security
A two-car garage
Four bedrooms at the second floor that share two common toilet and bath
A second floor family hall that overlooks the living room
A second floor balcony overlooking at the front of the house
Type: Single Dwelling
Starting Price: 8.5M (model house only)
Bedrooms: 5 + 1
Floor Area: 263.50 sqm
Floors: 2
Bathrooms: 4
Lot Area: 127.5 sqm (suggested)
Images / Plans
Click each image to enlarge
We offer FREE consultation!
For your enquiries, please contact us:
Email: info@2build4less.com
Landline: (63-2) 369.9959
Mobile: (63) 998.849.9408
You may also contact us via our ENQUIRY FORM below.