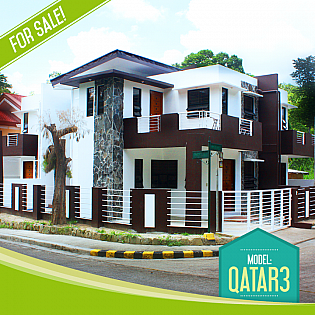 Qatar 3: A Modern Minimalist Townhouse
An excellent home for the modern up-and-coming family!
Each beautiful home has three spacious bedrooms
Private covered carport
Granite work top kitchen
Steel framed stairs with solid wood treads
A second floor balcony
Powder coated aluminum windows
Combination of direct and indirectly lighted ceiling design
Dining area that opens to a back lanai
Type: Single Dwelling
Starting Price: 2,700,000 (model house only)
Bedrooms: 3
Floor Area: 106.81 sqm
Floors: 2
Bathrooms: 2
Lot Area: 80 sqm (suggested)
Images / Plans
Click each image to enlarge
We offer FREE consultation!
For your enquiries, please contact us:
Email: info@2build4less.com
Landline: (63-2) 369.9959
Mobile: (63) 998.849.9408
You may also contact us via our ENQUIRY FORM below.