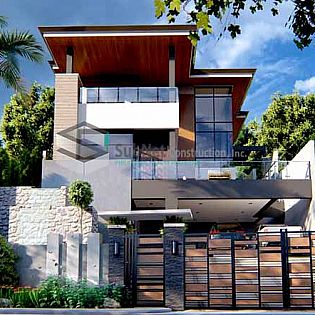 Fairway Executive
A residential house that preserves the values of a simpler time ticking all the boxes for modern family living that has a welcoming features such as high ceiling and oversized kitchen nook, with five bedrooms and five bathrooms, and a cleverly concealed laundry area. It's also designed to invite multi-generational living that provides space and privacy for you, your relatives and house guests. And with it's wide opening, soaring voids, and stone cladding it will ensure you to enjoy leisure time with style and comfort. 
Lot Area: 408 sq.m.

Total Develop Floor Area: 415 sq.m.

Deatails:

A. House Features

Design to adopt on uphill lot
Pond and falls on entry
Open spaces such Terraces, Lanai, and Balcony
High Ceiling Living Area
Open Concept Dining and Kitchen area with Breakfast Nook
Master's Bedroom with T&B and Walk in Closet
Auxiliary room for Family Guest with Guest T&B
Two (2) spacious Bedroom, each has its own T&B with Walk in Closet
Water Line is installed with hot and cold water

Family Hall
Two (2) Spacious Car Garrage with lounge
Maid's Room with common T&B
Service Area have a plenty spaces for storage
Provision for Lift/Elevator
All Rooms and Spaces are naturally ventilated, large widow for natural lights and air.
B. Safety and Security Features
Automated Gate
Electric Fence
CCTV Camera that can be monitor via mobile
Doorbell Monitor
C. Other Features
Solar Panel provides green energy to the house that's save 30-40% on electric bill.
Type: Residential
Starting Price:
Bedrooms: 5
Floor Area: 415
Floors: 3
Bathrooms: 5
Lot Area: 408
Images / Plans
Click each image to enlarge
We offer FREE consultation!
For your enquiries, please contact us:
Email: info@2build4less.com
Landline: (63-2) 369.9959
Mobile: (63) 998.849.9408
You may also contact us via our ENQUIRY FORM below.