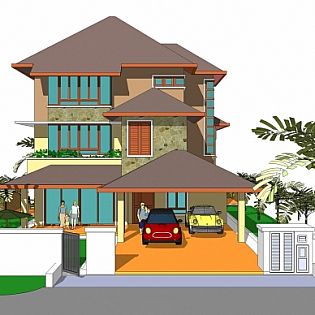 El Grande 7: A Single Dwelling
A three-storey house of luxury for you and your family!
A three-storey 6 + 1 bedroom luxurious house
Spacious double living room and dining room on the ground floor
A very large master's bedroom with own walk-in wardrobe and ensuite on the first floor
All bedrooms are bathroom attached
Dining room has an outdoor sundeck for entertainment and relaxation
Sundeck is landscaped with water features
Inviting and discreet entrance foyer with powder room attached
Staircase is placed centrally to reduce travel distance, bring extra daylight into the spaces inside, and heighten the experience of ascending two flights of stairs
Perfect design for owner with extensive space requirements
Parking space for two cars side by side with spaces available for two more behind
Family room on upper level for privacy and extended use
Guest room or study room comes with attached bathroom on the ground floor
Very large bedrooms on the upper most floors are designed to have maximum view and privacy


Type: Single Dwelling
Starting Price: 14M (model house only)
Bedrooms: 6 + 1
Floor Area: 620+ sqm
Floors: 3
Bathrooms: 6
Lot Area:
Images / Plans
Click each image to enlarge
We offer FREE consultation!
For your enquiries, please contact us:
Email: info@2build4less.com
Landline: (63-2) 369.9959
Mobile: (63) 998.849.9408
You may also contact us via our ENQUIRY FORM below.